BASIC INFO
Video of Irregular paper plate tray machine
Working video playlist on youtube
https://www.youtube.com/playlist?list=PLjB-v2tkpOHcrnxFGyYsCYUuTQ1V12Avo
Video of Irregular paper plate tray machine
Picture of Irregular paper plate tray machine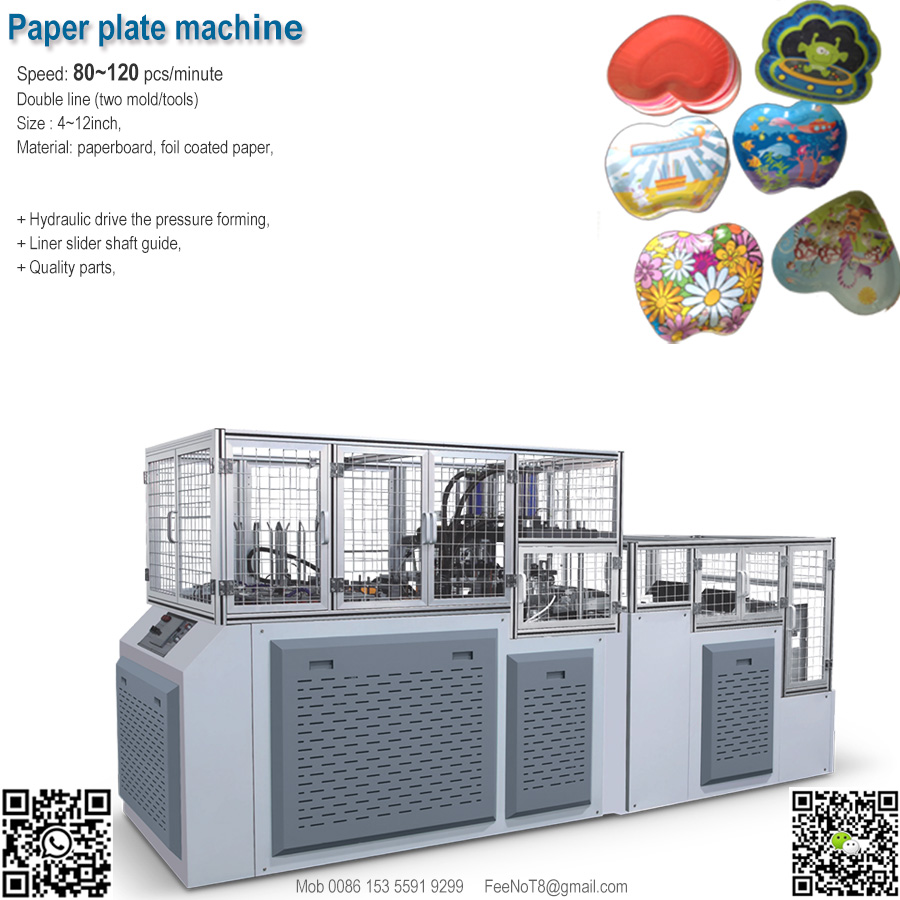 Character of Irregular paper plate tray machine
Speed: 80~140 pcs/min,
Double line: assemble two tools,
Size: 4~12 inch,
Material: paperboard, cardboard, foil paper,
Hydraulic drive the pressure forming,
Usage: paper plate tray dish bowl
Manufacturer factory price :
Power source:380V 50Hz,,
Total Power:8KW,,
Weight:1400kg,,
Size: 3700×1200×1900mm,
,
Description of Paper plate making machine
600Y type high-speed & intelligent paper plate machine uses desktop layout, which isolates the transmission parts and molds. The transmission parts are under the desk, molds are on the desk, this layout is convenient for cleaning and maintenance.
The machine adopts mechanical transmission, hydraulic forming and pneumatic blowing paper, which has the advantages of stable performance and easy operation & maintenance. For electrical parts,PLC, photoelectric tracking, auto intelligent & safe fabrication, can directly support production line.
Advantage of Paper plate tray forming machine
independent research and development, the latest products, using the fast oil pressure system, each station is 15 – 20 minutes faster than ordinary machine,
send paper using mechanical work, stable performance. Compared to the ordinary type of paper drop technology, the waste rate is greatly reduced to 1/1000,
hydraulic oil recycling, reduce emission pollution, low noise. ,
Available to make all shape plate/tray, round/rectangle, irregular, ,
Inquiry price of Irregular paper plate tray machine
Inquiry price of Irregular paper plate tray machine
More information & details, please contact us.