BASIC INFO
Video of Salad paper bowl container packing machine
Video of salad paper bowl container packing machine
Working video playlist on youtube
Picture of salad paper bowl container packing machine
Picture of salad paper bowl container packing machine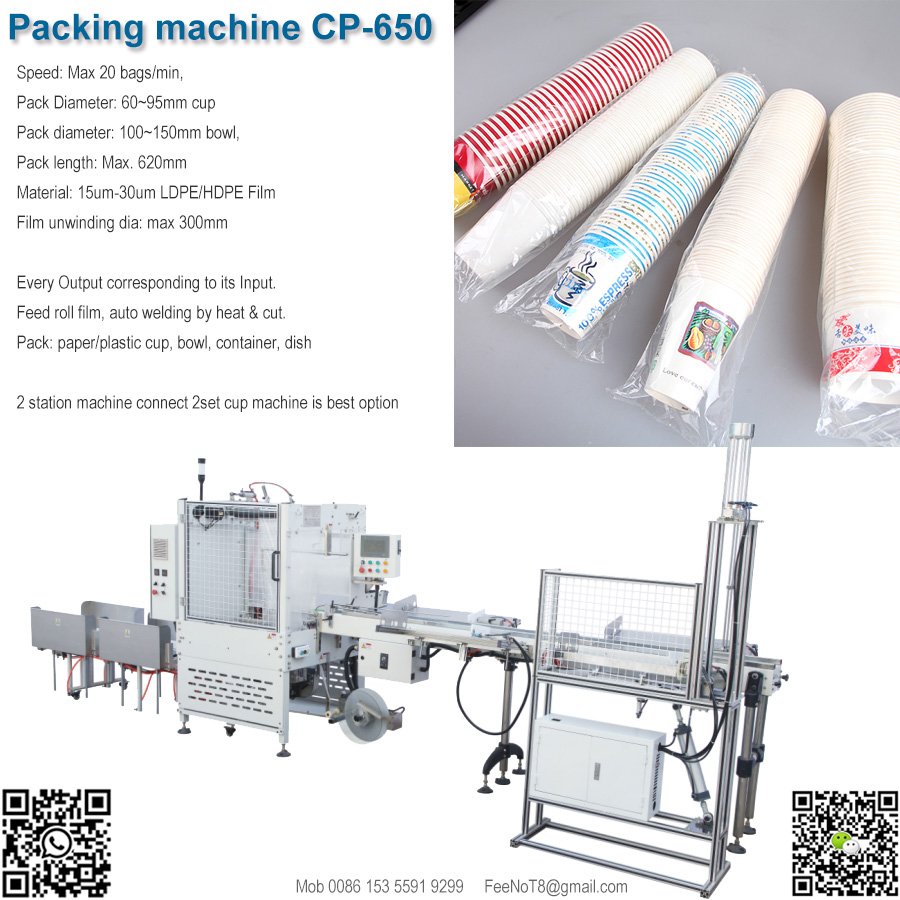 Character of salad paper bowl container packing machine
Packing Diameter: 60~ 95 mm (cup), 100~ 150 mm (bowl),
Max. Packing Speed: Max 18 bags/minute; Max 15 bags/minute (bowl),
Max. Unwinding diameter: 300mm,
Max. Packing Length: 650mm (cup), 500mm (bowl) (against on order),
Packing Film Materials: HDPE, LDPE, PP, POF, PO, CPP,
Packing Film Thickness: 15um~50um,
Total power: .5 KW,
Electrical Req: 380V±10% , 3-phase, 50Hz,
Air Requirement: 0.6MPa,
Machine Weight: 700 KG (on order),
,
Description of plastic film bag packing machine
Automatic paper cup (bowl) packaging machine —– solve the risk of secondary pollution of dust and fingerprints, hair, etc. This is a common problem in manual work. And greatly reduce direct labor and reduce the cost of packaging materials. Make the packaging effect more beautiful. It is the necessary equipment for the modern production of paper cup manufacturers, and it is the best choice for machines to replace people!
With automatic film feeding, venting, color mark tracking, single and double column packaging and other functions. It can be connected to multiple paper cup machines to form a fully automatic production line. The line production can be automatically adjusted according to the size of the paper cup. The cup can be automatically sorted and transported to the specified carton, and the inkjet printer can be installed on the package. And model batch number.
Advantage of plastic film packing machine
Significant packaging film cost savings over pre-made bags,
Eliminates the risk of dust and fingerprint pollution, which is common problem of manual work. ,
The Packager is controlled by PLC and HMI. Easy to operate with quick, easy change over.,
Film sealing: Reasonable mechanical structure and pneumatic execution make the packing bag incision smooth with high speed. ,
Adopts Schneider servo motor to feed demand film automatically.,
The packager can be connected with plastic cup machine or printing machine.,
Hole punch device.,
The Guards are located all around the packager and are used for safety to keep you away from dangerous moving parts. ,
,
Inquiry price of salad paper bowl container packing machine
Inquiry price of salad paper bowl container packing machine
More information & details, please contact us.