BASIC INFO
Coffee tea paper cup forming machine OC12 Video
All videos:  https://www.youtube.com/user/TheCupmachine/playlists
Video in youtube: https://www.youtube.com/watch?v=UoEBaIxOcdw&list=PLjB-v2tkpOHcASOiHC7fFtoO8wTEzuOY3&index=1
Mob/Whatsapp/WeChat: +86 153 55919299
Email: feenot8@gmail.com
Hot sale paper cup making machine OC12
Coffee tea paper cup forming machine OC12 Brief info
# Speed: 70~80 pcs/minute,
# Cup Size: 2~16 oz
# Material: 150~350 gsm 1PE & 2PE paper
# PLC control, Open Cam + Shaft + Gear drive,
# Servo motor feed bottom,no bottom wastage.
# 11 sensors detect & fault alarm & stop,no wastage,
# Cup side welding: by Ultrasonic,
# Cup bottom heating: by Air compressor Hot-Air,
# Remote controller,
# Quality electric parts(famous brand), Auto oil system
# Working power: around 3.5KW
# Power Source: 380V 3-Phase 50/60 Hz
# Need Air (pressure:0.3~0.5Mpa, Output:0.5 CBM/m)
Coffee tea paper cup forming machine OC12 Picture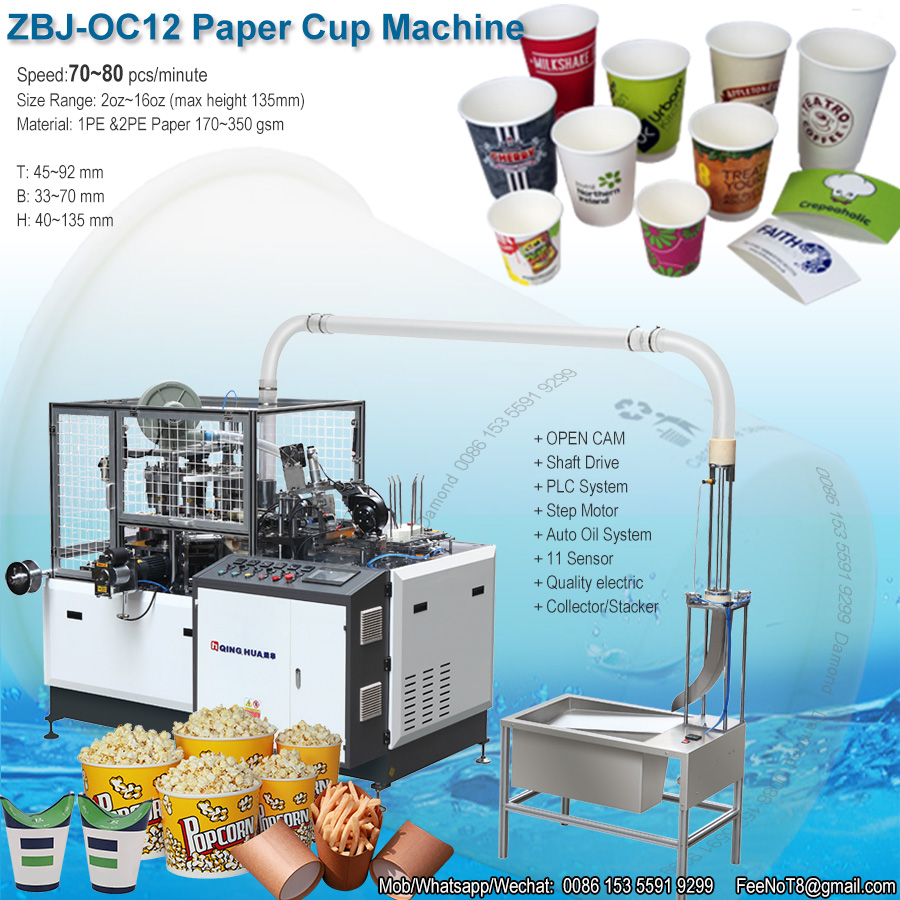 .
Coffee tea paper cup forming machine OC12 Technician
Model
ZBJ-OC12
ZBJ-OC22
Cup Size range:
3 ~ 16 oz 
8~22oz
T: 45~90 mm

B: 35~72 mm

H: 40~135 mm

T: 45~90 mm

B: 35~72 mm

H: 40~170 mm

Speed:
70 ~ 80 PCS/minute
50~60 pcs/m
Raw Material:
One-side or Two side PE/PLA/PBS coated paper
Suitable paper weight:
160~350gsm
220~350gsm
Total Power:
9KW
15KW
15KW
Working Power:
3.5 KW
13.5KW  Ceramic Hot Air
13.5KW  Ceramic Hot Air
Total Weight:
GW/NW: 2600/2500KG
2700/2600KG
Pack Size (L*W*H)
2.25×1.23*1.95  (2.4 x 1.4 x 2.1 pack size)
2.25 * 1.34 * 1.95m
Cup Side Welding:
Ultrasonic 
Cup Bottom Heating:
Compressor Hot Air ( Ceramic Hot Air , extra cost)
Cup Bottom Knurling:
Heater Knurling (for single PE coated paper)
Cool Device (circle water), for double PE coated paper
Power Source:
50Hz, (380V 3-phase, 50Hz), * if User power different? Please INFO US IN ADVANCE.
Working Air Source:
Air pressure:0.4Mpa;  Air Out-put:0.6m³/minute  (User should BUY Air Compressor)
We Reserve the right to alter specifications without prior notice.
Coffee tea paper cup forming machine OC12 Other info
Speed 70~80 cup/minute
HMI & PLCProgram computer control, easy operate,
11 sensorsdetect all steps, any fault auto stop, one cup fan cut one bottom disc, no wastage.
Servomotor control the bottom feed, precision and reliable, no wastage,
Open Cam(8-divide) drive, compare with index gear box, easy maintenance, stable and reliable, easy replace broken parts.
Remotecontroller, easy control and adjustment,
Quality Shaft & gears drive the movement, more stable than chain system,
Only ONE main turntable, more efficient and reliable.
Self lubricate(automatic oil lubricate),
Quality bearing and electronic element, long life,
Robot straight lift the cup body to main mold.
Bottom disk straight punched and send to the cup body, less wastage and precision.
Separately cam control the bottom movement, machine smooth and light,
Advanced bottom knurling system, reliable and long life,
Cup side sealing ultrasonic (1PE & 2PE paper),
Bottom hot air heating , good sealing,
Working power less, save cost,
With cup collector/stacker, One worker run 2~3 sets cup machine, save labour,
Optimize the movement design, frame, parts, machine more light pressure, long life time.
ZBJ-OC12 Medium Speed Paper Cup Making Machine
After Sales Service:
1
Warranty: We offer a 12 months warranty. During the warranty period, we provide free replacement of damaged parts due to quality problems (post charges covered by buyer).

All failures/broken caused by improper operation of the buyer and/or normal abrasion are not within the warranty.

2
Spare Parts: Each machine has its standard spare parts.
3
Manual, Video, to help operate machine, Questions response within 48 hours (except holiday).
4
FREE: The buyer come to learn how to operate machine, how to adjust, how to change parts. It is free.

(buyer should pay for his cost of ticket, hotel, food, etc).

5
The seller agrees to dispatch technician for installation & training, the cost covered by the buyer.

Technician cost includes: round tickets, accommodation (hotel, food), an allowance of USD100 a day.

6
Mechanic overseas Cost include:

1, Mechanic allowance, (for example one machine training 5days, on the way 2days, total 7days, $100*7=$700)

2, Ticket cost, round ticket cost (different country the cost different),

3, Visa cost, some country need visa cost,
20 Feet container load 4sets OC12,   
40 Feet container load 8sets OC12