BASIC INFO
QH-9905 Hamburger box erecting Machine Video: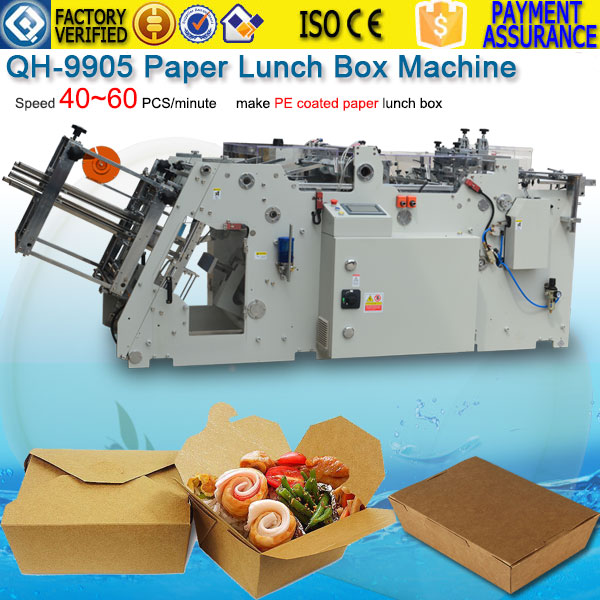 paper lunch box machine, paper lunch box forming machine, paper lunch box making machine
Hamburger Box Erecting Machine Description:
Carton Erecting Machine (paper box forming machine) is an automatic machine, specialize in making food carton, box, container which are made from cardboard, paper, paperboard, corrugated paper etc.
The food box(carton, container, dish, tray) is widely used as burger box, hot-dog box(tray), one block box, food pail box(Chinese food box, take-away box), fries box(chips box, chips tray), lunch box, meal box, etc.
Qh-9905 Hamburger Box Erecting Machine Advantage:
Compact structure, Strong frame, keep the machine reliable and durable with low noise.
Hard Plastic-glass cover, Safe and visible for user.
Easy exchange molds to make different products, charging and adjusting time is very short.
PLC program control the whole line, available to make complicated boxes.
Automatic collection, stock, and count.
Human being designed control button and panel, more easy and safe runs by user.
QH-9905 Hamburger Box Erecting Machine Specification
Speed: Max180 box/minute
Max. 180pcs/min; 4-corner box without cover, Boat Shape Box, Boat Tray,
Max. 140pcs/min:Fries box (chips box, chips tray):
Max. 120pcs/min:Burger box, hot-dog box, Lunch box
Max. 100pcs/min Food pail (DEEP food box):
Welding Method: Water-Glue System Welding; (all machine equipped Water Glue System)
(Food grade glue, POLYVINYL-ACETATE EMULSION),
Available Material:150~600gsm board, paperboard, paper, corrugated cardboard, Fluted paper, etc.
Material Thickness:Max. 1.5mm
Power: 5KW,
Power Source: 3-phase, 380V, 50/60Hz,
Machine Size (L*W*H): 3520*1510*1420
Pack Size: 3550*1510*1700
Weight: 2000KG;
Air Source:
Pressure: 6KG/cm2 ; (0.6MPa);
Out-put: 200 L/minute ; (0.2~0.4 m3/minute);
User Need To Buy Air Compressor