BASIC INFO Video Link Payment & Delivery Service Contact
Paper lid making machine 145 leader description
145 leader Paper lid making machine is our patent machine.
It is an automatic machine with the functions:Automatic roll paper feed, creasing (make the forming guide line), emboss (can make emboss, logo), hole punch(make hole for straw), punching (punch the roll paper to lid open disc), auto feed disc to mold, heating, folding, knurling, and discharge. With convey and counter for collection.
carton cardboard paper lid cover making machine, widely used to make paper lid cover for cup bowl container tube can, coffee cup paper lid, salad bowl paper cover, tube can cap, etc,
Paper lid making machine 145 Leader spec
Paper lid making machine 145 leader
Speed : 80~120 pcs/minute;
Lid size: 55~110mm,
Material: One & Two side PE/PLA/PBS coated paper,
Material: plastic free water coated paper (KOTKA barrier coating paper ),
Paper Weight: 35~55 um (0.35~0.55mm, 240~450 gsm), best over 320gsm,
Total power: 15KW,
Weight: 3300KG,
Pack size: 3450 x 1380 x 2180mm,
Air Source : Air Pressure: 0.4Mpa, Air output: 100~300L/minute;
We Reserve the right to alter specifications without prior notice.
other,
Paper lid making machine 145 Leader Video
Video list on youtube:
https://www.youtube.com/playlist?list=PLjB-v2tkpOHfYITq3C4pantbR8s0xgPu9
watch the live working demo:
Picture of Paper lid making machine PL-145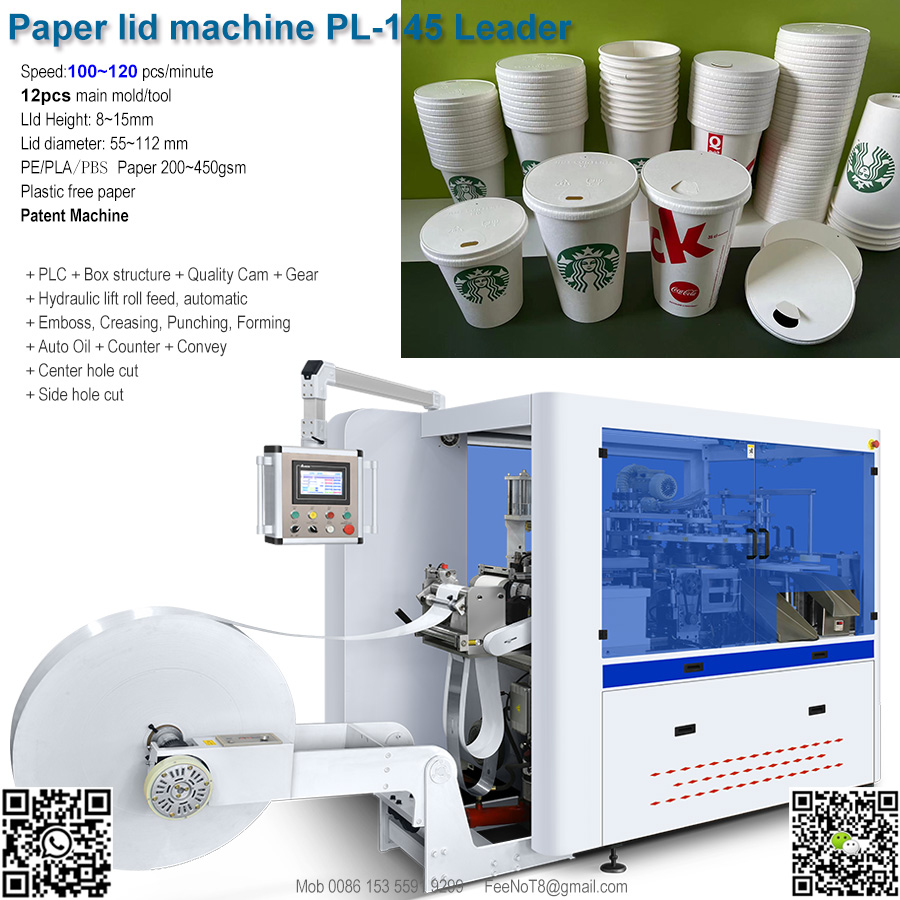 Paper lid making machine advantage
Patent equipment, (this machine designed and researched by our company only, we do not have other branch company),
Exclusive, the machine working process, and machine inside mechanism system all by
Automatic Roll paper feed system (lift/down roller by hydraulic, easy operation, with brake motor feeder, tension controller),
Auto creasing (guide line, guide the lid side folding in order, not ugly wrinkle),
Auto emboss (logo or shape on lid top, also make cross cut),
Auto inline drink nozzle punch (center hole O/X shape, side edge hot drink nozzle,stream out hole),
Auto punching (punch roll paper to lid open disc, lift to lid mold),
Lid made by one paper disc, save cost.
PLC control + servo motor feed paper,
Quality Open cam + shaft + cam + gear control movement, stable and reliable.
Automatic oil system,
Mechanism system full covered in box, avoid dusty and keep safety.
Easy operation, only need feed roll paper, and collect lids, save labor.
24 hours no-stop working allowed (full auto oil system allow machine run 24hours a day).
Paper Lid Advantage:
One layer lid, cost cheap, full automatic, easy operation,
Easy drink nozzle/hole cut, choose center hole X/O cut or not, make lid for cold & normal drink,
Inside emboss knurling lock, with paper lock-design, prevent water spread out,
ECO friendly, use paper material, all world plastic control or banned, will be great market,
Easy print beautiful artwork on paper lid than plastic lid (especially print together with cup artwork, looks excellent),
Amazing customize logo print, customize lid print, and excellent match the customize cups,
Inquiry price, Feedback & Comments :
inquiry the price, more information & details, please contact us.
FeeNoT.com
Video of Paper cup machine OC12
Working video playlist on youtube
Video of Paper cup machine OC12
Picture of Paper cup machine OC12
Picture of Paper cup machine OC12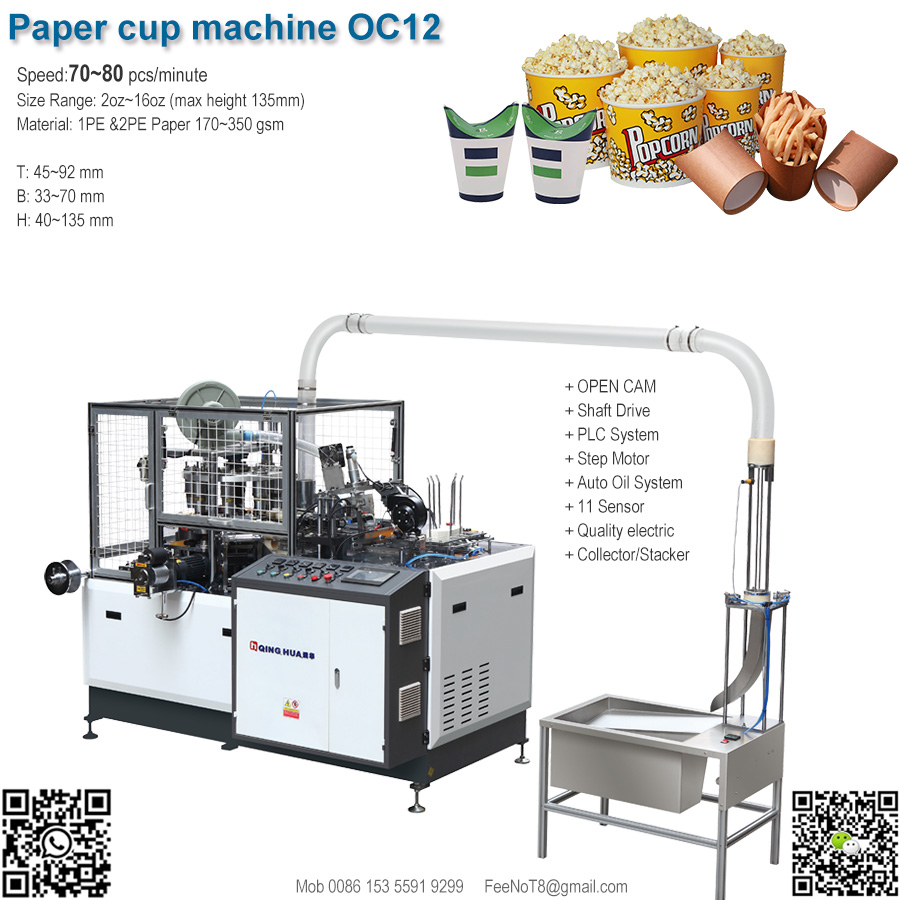 Character of Paper cup machine OC12
Speed: 70~80 pcs/minute,
Cup Size: 2~16 oz,
Material: 150~350 gsm 1PE & 2PE paper,
PLC control, Open Cam + Shaft + Gear drive,
Servo motor feed bottom,no bottom wastage,
11 sensors detect & fault alarm & stop,no wastage,
Cup side welding: by Ultrasonic,
Cup bottom heating: by Air compressor Hot-Air,
Remote controller,
Quality electric parts(famous brand), Auto oil system,
Working power: around 3.5KW,
Power Source: 380V 3-Phase 50/60 Hz,
Need Air (pressure:0.3~0.5Mpa, Output:0.5 CBM/m),
Inquiry price of Paper cup machine OC12
Inqury the price of Paper cup machine OC12
Want more information?
ZBJ-X12 Ultrasonic Paper Cup Making Machine Video
ZBJ-X12 Paper cup making machine Advanced :
1, Gears & Axis control movement, two index gear box, more efficient & accurate.
2, HMI & PLC Program computer control, easy operate, fault auto-stop and easy solution.
3, All procedure sensor detect (11-sensor control all step), Less wastage & fault, Reliable.
4, Self lubrication (Automatic Oil Lubrication for machine moving part), long life time.
5, Import electric Elements, Superior Bearing & Quality material, more durable and reliable.
6, Working power only 3.5KW, save electric power cost.
7, One worker can run 2sets machine (machine assemble cup stock), save labor cost.
ZBJ-X12 Paper cup making machine description:
Paper Cup Forming Machine is an automatic machine with multi-working station, which has the function of photocell detection, failure alarm, counter and the advantages of humanism design, safer operation and easier maintenance.
It makes both one-side and two-side PE-film-coated paper cups after running a whole procedure of automatic Multi-step pre-printed-cup-fan-paper Feeding (Multi-step paper-feed and Anti-back device to keep the accurate position), cup-wall-side welding(ultrasonic wave), robot transfer cup body, silicone-oil lubricating(for top curling, Dimethyl silicone oil 201,Food Grade), bottom-disk punching, bottom pre-heating and pre-folding, main heating, bottom knurling(cool device for 2PE), top curling, cup discharging, collecting, blowing, pipe transfer to count and pack desk.
It is an ideal equipment of making 3~16oz paper cups(hot drink paper cup, cold drink paper cup, coffee paper cup, tea paper cup, ice cream paper cup, juice paper cup, milk paper cup, etc).
ZBJ-X12 Ultrasonic Paper cup making machine specification:
Model
ZBJ-X12
ZBJ-X16
Rated Speed:
Actual 65~75cups/m (4~12oz)
60~75 cups/minute
55~70 cups/minute
Paper Cup Size:
3 ~ 16 oz
8~22 oz
Raw Material:
One-side or two side PE(polyethylene)film coated/laminated paper;
Suitable paper weight:
180~350gsm
Power Source:
50Hz, (220V single phase, 380V 3-phase, 50Hz),
(Better use 380V 3-phase)
* if User power different? Please INFO US IN ADVANCE.
Total Power:
6KW
6KW
Working Power:
3.5 KW
3.5 KW
Total Weight:
GW/NW: 2750KG/2600KG
GW/NW: 2950KG/2800KG
Pack Size (L*W*H)
2750 x 1240 x 1800 mm
2800x1300x1900
Working Air Source:
Air pressure:0.4Mpa; Air Out-put:0.6m³/minute
User should BUY Air Compressor
Cup Side Welding:
Ultrasonic
Cup Bottom Heating:
Hot Air (Air compressor supply air)
Cup Bottom Knurling:
Heater Knurling (if use single PE coated paper)
Cool Device (circle water) knurling, for double PE coated paper
Available to make special machine & molds on user order.
Paper lid making machine,
Model: 145 Leader,
Speed: 100~120 pcs/ min,
Lid size: 55~110 mm,
Lid height: 8~12 mm,
Material: PE/PLA/PBS film coated paper,
Feed roll paper, full automatic, easy operate,
Usage: paper lid cover for cup bowl container can,
Single layer paper lid cover,
Paper lid making machine 145 leader is our exclusive patent container forming machine,
It makes carton cardboard paper lid cover cap for cup bowl container tube can.
Other name: paper cover machine, paper cup lid making machine, lid forming machine,
Price Given on T/T Payment, (Extra US$1000/Shipment For L/C Payment.)
Price Term: FOB Ningbo port, China.
Payment: T/T( 30% deposit, 70% before delivery) or L/C.
Lead Time: 30~45 working days at sight the deposit.
Packaging: Seaworthy Wooden Packing.
1 year guarantee, Spare parts guarantee for one year. All life time support.
English manual, Video. Questions response within 48 hours.
Send technician for installation & training, the cost cover by buyer ( round tickets,accommodation, an allowance of USD80 a day).