BASIC INFO
Video of Double wall paper cup sleeve machine DW22
Working video playlist on youtube
Video of Double wall paper cup sleeve machine DW22
A
Picture of Double wall paper cup sleeve machine DW22
Picture of Double wall paper cup sleeve machine DW22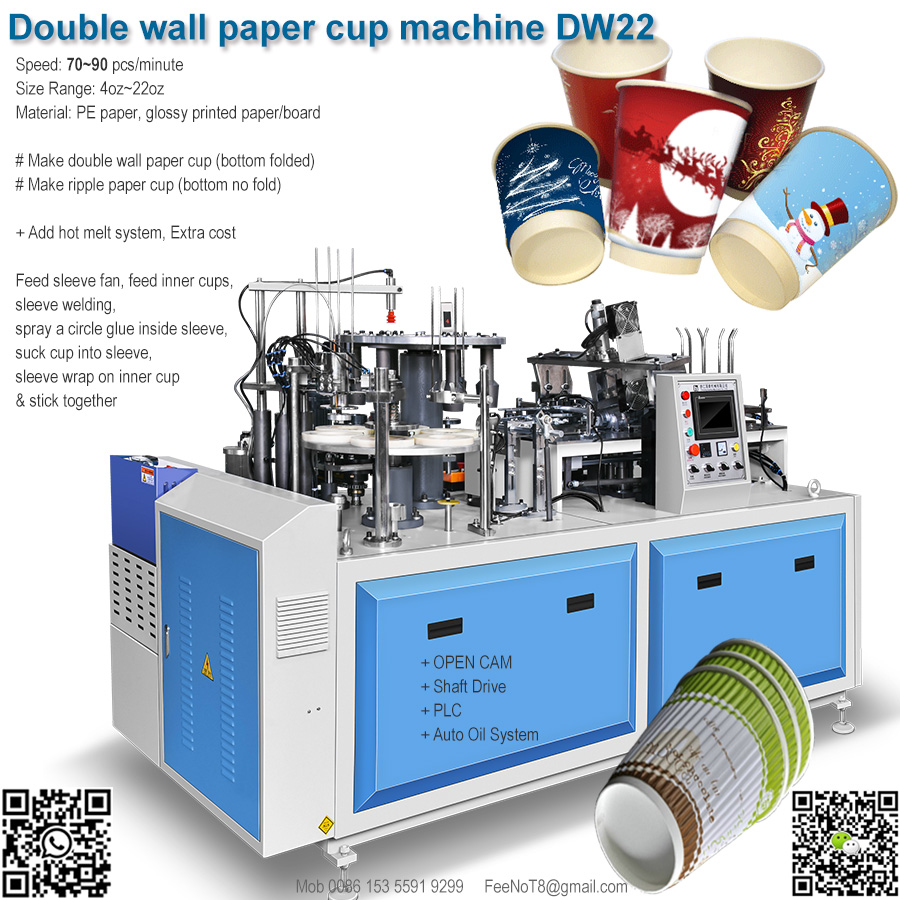 Character of Double wall paper cup sleeve machine DW22
Speed: 70~100 pcs/minute, Mate for OC12 cup machine,
Size range: 4~22oz cup,
T: 50~95mm; B: 45~70mm; H: 45~170mm,
Material: 150~350gsm PE paper or glossy printed paper,,
Total Power:5KW,
Power source: 380v 3-Phase, 50/60 Hz,
Weight: 2200/2000KG,
Machine size: 2.67 x 1.28 x 1.9 (2.5 x 1.1 x 1.7) ,
Air requirement: pressure:0.3~0.5Mpa, Output:100~300 L/m,
We Reserve the right to alter specifications without prior notice.,
,
To make double wall paper cups, (ripple or double wall)
Need two style machines,
A, Paper cup machine, to make the inner white cup, single wall cup,
B, Paper cup sleeve machine, to make and adhesive sleeve around the inner cup.
Description of Double wall paper cup sleeve machine DW22
WT-22 double wall cup machine is a kind of automatic double layer cup forming machine. It comes with open intermittent indexing cam mechanism and gear transmission, longitudinal axis structures. The whole machine adopts automatic lubrication system, which makes all mechanical parts working much more smoothly. It has functions of automatic paper feeding row by row, ultrasonic sealing, paper cylinder transferred by mechanical arm, oiling, bottom folding, stepping glueing system, air cylinder system and double wall paper cup stacking.,
It has invertor for auto speed adjusting, stops automatically if any problem controlled by sensors, so that the machine is well protected and becomes more durable.,
We adopt separate cam drivers on the left and right of cup side sealing device, with open-cam structure, and the working status is quiet and stable, which is the top technology owned by us in China. It can make cups with different sizes by changing molds.,
,
Advantage of Double wall paper cup sleeve machine DW22
PLC + OPEN CAM + Automatic oil system,,
Sleeve welding by ultrasonic, ,
Auto bottom folded (hollow sleeve cup),,
Circle spray water glue inside sleeve cone body,,
Auto suck inside cup down & adhesive with sleeve,,
Water Glue :(polyvinyl acetate emulsion),,
Inquiry price of Double wall paper cup sleeve machine DW22
Inquiry price of Double wall paper cup sleeve machine DW22
Want to know more? any questions? please fill the form.