BASIC INFO
Video of Paper cup machine OC12
Working video playlist on youtube
Video of Paper cup machine OC12
Picture of OC12 paper cup forming machine
Picture of Paper cup machine OC12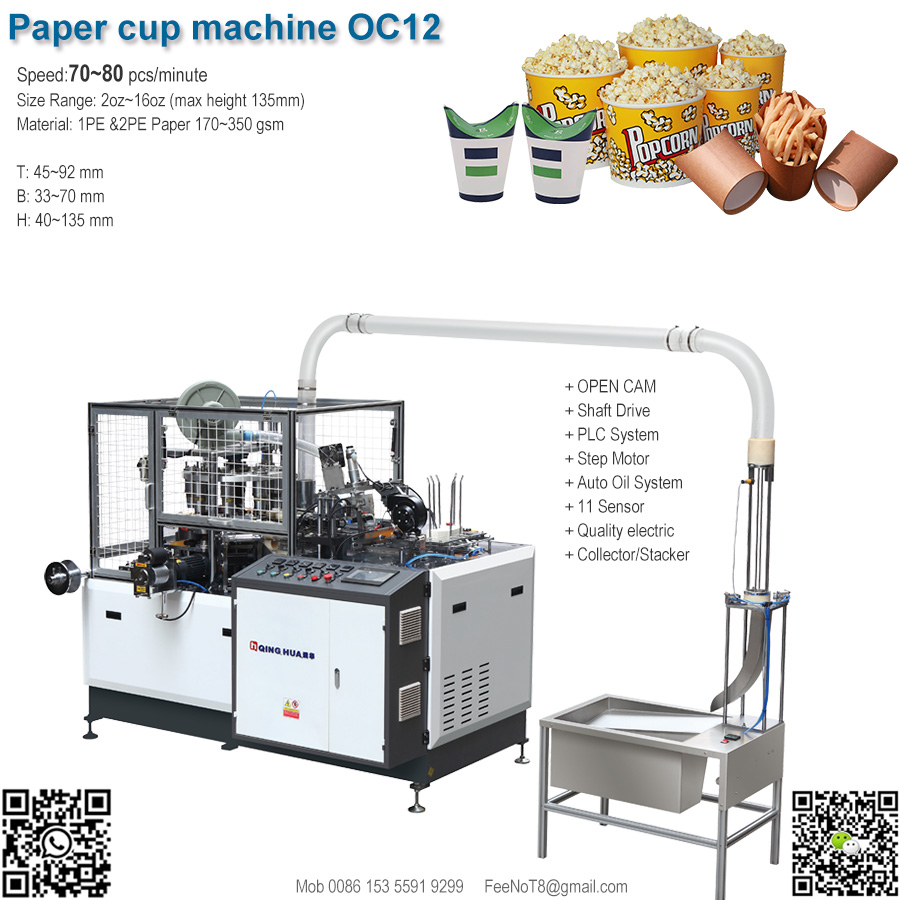 Character of Paper cup making machine OC12
Speed: 70~80 pcs/minute,
Cup Size: 2~16 oz,
Material: 150~350 gsm 1PE & 2PE paper,
PLC control, Open Cam + Shaft + Gear drive,
Servo motor feed bottom,no bottom wastage,
11 sensors detect & fault alarm & stop,no wastage,
Cup side welding: by Ultrasonic,
Cup bottom heating: by Air compressor Hot-Air,
Remote controller,
Quality electric parts(famous brand), Auto oil system,
Working power: around 3.5KW,
Power Source: 380V 3-Phase 50/60 Hz,
Need Air (pressure:0.3~0.5Mpa, Output:0.5 CBM/m),
Description of Paper cup machine OC12
Speed 70~80 cup/minute
HMI & PLCProgram computer control, easy operate,
11 sensorsdetect all steps, any fault auto stop, one cup fan cut one bottom disc, no wastage.
Servomotor control the bottom feed, precision and reliable, no wastage,
Open Cam(8-divide) drive, compare with index gear box, easy maintenance, stable and reliable, easy replace broken parts.
Remotecontroller, easy control and adjustment,
Quality Shaft & gears drive the movement, more stable than chain system,
Only ONE main turntable, more efficient and reliable.
Self lubricate(automatic oil lubricate),
Quality bearing and electronic element, long life,
Robot straight lift the cup body to main mold.
Bottom disk straight punched and send to the cup body, less wastage and precision.
Separately cam control the bottom movement, machine smooth and light,
Advanced bottom knurling system, reliable and long life,
Cup side sealing ultrasonic (1PE & 2PE paper),
Bottom hot air heating , good sealing,
Working power less, save cost,
With cup collector/stacker, One worker run 2~3 sets cup machine, save labour,
Optimize the movement design, frame, parts, machine more light pressure, long life time.
,
Inquiry price of Paper cup machine OC12
Inqury the price of Paper cup machine OC12
Want more information?